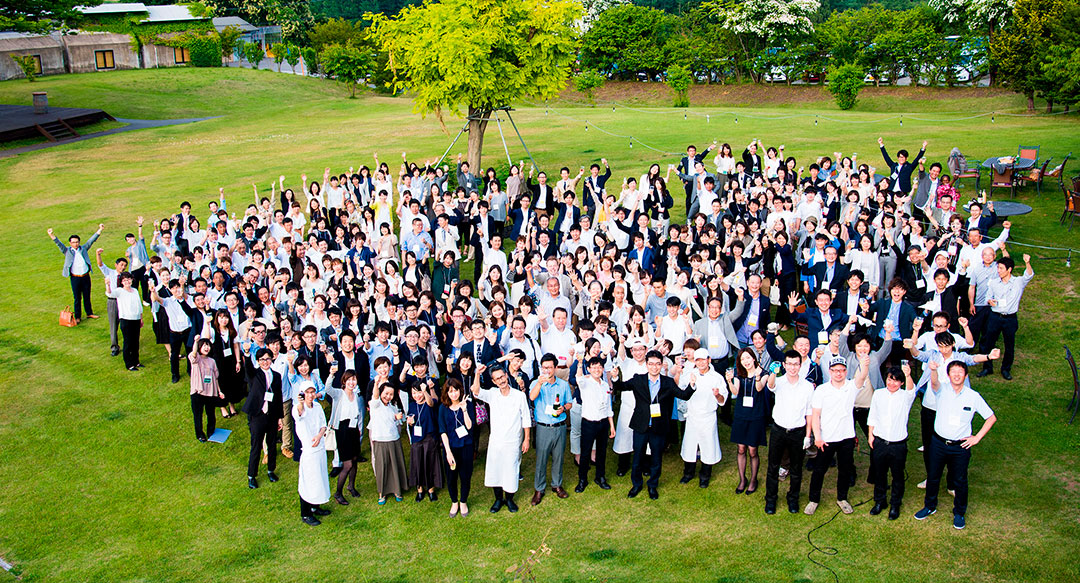 Corporate Slogan
Lasting Love and Joy at Your Table
Our Origin
Our story begins at a ski lodge founded by Ryozo and Mayumi Kuze, where Mayumi made homemade apple jam for the guests. It is there that our values took root, and with these, our desire to provide hospitality and enjoyable dining for our customers.
Core Purpose
Our aim is to be a company of integrity that our customers, shareholders, business clients and partners can rely on through conducting sound business practices.
We create a rich, mature culture in which people respect each other's differences and contribute to realizing a comfortable and pleasant society.
We will present delicious, healthy and high-quality food to people all over the world with value, to provide a rich dining table, a time to enjoy life, and a place where people can gather and connect.
Core Values
To be honest.
To value the Golden Rule.
We cherish the heart and the mind and seek to do unto others as we would have done unto us, without discrimination, with an open mind and with respect for others.
To keep improving ourselves by being humble and sincere.
To prioritize teamwork with mutual appreciation.
To be always taking on new challenges, with the aim of being the best in the world through repeated ingenuity.
Base of Our Company
We operate healthy business activities to fulfill our goal in becoming a good company that contributes to our community and society for a long period of time.
We are open to everyone as we become a healthy company that is operated by partners who share our business concept.
We emphasize the three-sided satisfactions among our partners, customers, and company in order to build mutually fruitful relationships.
We will spare no effort to pass our valued food culture and abundant global environment on to the next generation who inherit them.
Vision 2035
By the year 2035, Japan and other developed countries are projected to place a high value on rural living and appreciation of nature, while desiring real communication and locally produced food. At the same time, however, the world is changing through digital technology, making everyone more closely connected, increasing efficiency in our lives, and as a result of expansion of artificial intelligence, leading us to more creative occupations.
Faced with the issues of shrinking population and the increasing demands of fulfilling people's needs, Japan is expected to create new, innovative products and services, leading to a rapid increase in productivity. While having cherished our identity in Japan, we began a preemptive analysis of overseas regional markets and, one product at a time, set out to create a brand of food that would espouse the wisdom and pride found in traditional Japanese food. There will be other new products with the appeal of abundant nutrition; however, we would remain true to our traditional food culture, while conveying unique background stories and service with hospitality to consumers. And through our creativity, we would search for knowledge about different and local food cultures, find joy in discovery, and produce a hybrid of values. This would touch and attract new workers not only in Japan, but also in the United States, Asia, and Europe.
Our brand will fit the values and bring our customers a "joy of eating." We would also provide a "joy of cooking" at our customers' kitchens through our products and services. While more and more people value communication among family and friends, we would deliver a "joy of sharing" and make ours an indispensable company through lives and a society filled with love and joy. And our values are supported by our love and rooted in our founding at a ski lodge, back when we cared for the safety and security of the family. We would constantly remind ourselves of our origins and pursue good taste through product management.
The barriers between online shopping and brick-and-mortar-retailers would be broken down, most notably in the recent consumer practice of viewing products in a retail store, enjoying conversation with the staff, but purchasing the product online. These new customers would be surprised by our improved recipes of product management and constantly seek out new products and new categories, with some taking advantage of valuable new services such as cooking classes offered by chefs, participating in person or online. Such services are becoming an essential part of our customers' lifestyles. Our attitude to create products and various contributions to society will resonate with our customers, motivating them to purchase our products.
Our platform would connect us with regional manufactures, and their products would be sold through various channels, delivering love and joy to each customer's table all over the world under our brand name. This network of food makers would be established, having a 3,000-company source of production. Each producer would capitalize on their strengths and expand their sales channels, and this would contribute to the increased employment and the expansion of the facility, resulting in the activation of the rural economy. Our unique and special network was built on our mutual trust for one another, made after numbers of fair and deep conversations. The door is actively opened, making it a source of innovation. This firm and sustainable ecosystem would become widely known as an example for vitalizing local economies and we would take one more step toward solving the various issues producers would have, such as low productivity and finding successors. We would make examples of leading business succession and rebirth by going inside their business.
Our production bases in Nagano and in Oregon would improve product management constantly, embodying the ideas of new products, and producing high-quality products daily through expanding the capacity of the facility and through the network of our associated facilities all over the world. In the production facility, productivity would rapidly be increased, and people with different backgrounds would find joy in creating products in a friendly environment and work safely and securely, pouring love and passion into each product.
In the office, we value different lifestyle-based work-styles and create environments where people of various ages, genders, and nationalities would care, respect, and appreciate each other by building mutual respectful relationships along with the friendly and vibrant work environment, resulting in stable employment. We would be attracting highly motivated workers inside and outside of Japan because of our company culture, where workers are eager to learn for themselves and improve with each other, and because of our environment where workers can achieve their goals and grow through work. In each department, there would be group of experts who find joy in achieving innovation, and by actively interacting with networks outside and creating high values, our company would be viewed as highly profitable.
Our timeless and universal corporate philosophy such as love, honesty, earnest, acceptance, and humility are deeply rooted in our business activities and are always sustainable and open. Our corporate activities are willingly publicly disclosed, and every stakeholder, such as customers who support our company, stockholders, partner companies, partner employees and local communities will all feeling sympathy, trust and value for us. We would be fulfilling our social responsibility through our business, and that would be contributing to our culture and the peace of humanity.
Through food, we will protect the rich and local natural environment and conserve resources and energy as much as we can. Our active efforts of preserving environments will lead us to fulfill the responsibility for a sustainable society and to succeed and develop food culture. Just as it takes a long period of time for wines to age, we would strive to be a global company rooted in Nagano yet necessary in the world.
For us to be true to ourselves, and to others, we serve lasting love and joy at your table.
Quality Vision
We operate a quality management system through judgment and action in alignment with our business concept.from the farm to the family dining table.
Our first priority is to provide healthy, tasty, and safe food. Our targeted goal is to be at the top of the world standards.
We continue to improve the effectiveness of our quality management system, clarifying and capturing expectations and needs of our customers in order to exceed customers' expectations.
Quality Vision
We guarantee that our food is consistently safe from the farm to the family dining table.
We are unique and offer services that impress our customers.
We say hello from our heart with a smile.
We thoroughly implement 5S (Sorting, Setting in Order, Shining, Standardizing and Sustain¬ing) in preparation to greet our customers.